If you're looking for a classic hero's quest story with incredibly innovative special effects and a great sense of fun, Aquaman is for you.
Jason Momoa absolutely shines in this third appearance as Arthur Curry.  He seems to be having a blast, which brings a certain level of mirth and joy to a character typically not known for such attributes.  His Aquaman is brash, tough, a smart-mouth, physical, and arrogant, yet Momoa plays him with such a subtle sense of nobility and goodness that you can't deny his charisma.  Watching Momoa play Aquaman alone makes the movie worth checking out.  He's having such a great time that we can't help but join in the fun.
However, if you're a fan of the classic hero's quest story, Aquaman will delight you as well.  With a name like Arthur, the search for a mystical weapon, and a right to the throne, it's almost a given that a hero's quest must ensue.  I love that they did not shy away from Aquaman's obvious similarities to the legend of King Arthur.  Almost every classic archetype is addressed in Aquaman, which is partly why I believe this movie will be a huge success.  The mysterious bloodline, the search for identity, the reluctant king, the quest into parts unknown, the need to unite kingdoms, the monster, the mentor, the loving mother, the wise father, traitorous siblings–it's all there.  Like with Star Wars, Superman, and the Matrix, Aquaman hits primordial beats that we unconsciously desire.
If it's action you crave, though, Aquaman will not disappoint.  Director James Wan is mostly known for action and horror movies.  This experience serves Aquaman very well.  There is very little downtime in this movie.  It's almost nonstop action, and that action is so stimulating, so interesting, and so frenetic that you cannot refuse its brilliance.  Our first encounter with Aquaman occurs in a submarine, and while it's not the most lavish or extravagant in terms of effects, it's most definitely my favorite action scene in the whole movie.  The scene is tight, compact, and brutal.  Can you imagine having a fist fight in a submarine?  Now imagine that one of the combatants can rip the hull apart with his bare hands.  James Wan leans into this circumstance and creates an intense fight unlike any other.  There's also a point when Aquaman and Mera must enter a place called "The Trench."  This part of the movie is pure horror.  Even so, it's also oddly exquisitely unique.
In fact, Aquaman is unlike any other movie that I've seen, and I mean that literally.   You will see special effects in this movie that you've never before witnessed, specifically in regards to the underwater scenes.  I still have no idea how they did it, but they have the actors talking underwater and it looks so real that their hair is actually flowing in conjunction with their movement as though they are actually underwater.  We all know that water exerts a certain force upon objects moving through it–one does not move underwater as one moves on land.  They captured this very well, too.  The actors don't walk, they float.  They don't run, they swim.  Part of me wants to watch the "making of" features to find out how they did this, but part of me also wants to just enjoy the movie magic as it is.
Incredible as the special effects are, the real beauty of Aquaman is in the details.  If you care to notice, you will see detritus floating in the water around the actors.  You will see creatures on the rocks, wreckage in the background, and tiny bubbles emitting from various sources.  And when Aquaman walks out in his "super suit" … it's breathtaking.  They've done the impossible–they've made Aquaman's gold shirt look freaking cool.  They zoom in tight on it, too, and when they do you'll see every little scale, every overlay, every tiny piece of craftsmanship.
On that note, James Wan and the rest of the creative team have not just made a world for Aquaman to exist within, they've developed an entire universe.  They have birthed specific kingdoms, and each has it's own appearance, technology, and history.  After all, most of the planet is covered in water.  James Wan seems to be taking full advantage of the possibilities this environment provides.
If I'm being objective, though, the movie has some issues.  While I appreciate the "hero's quest" story, it never really pulled me in.  Does anyone truly doubt Arthur will win out in the end?  Some of the performances fell a little flat with me as well.  While Amber Heard looks great as Mera, I never felt any real chemistry between she and Momoa.  In fact, I think Momoa had more chemistry with Nicole Kidman, his on-screen mother!  Furthermore, the movie runs a tad long.  At two hours and twenty-three minutes, some of the spectacle began to feel like too much.  There are plenty of places they could have trimmed the movie up a bit.  I also found the music really distracting.  I love music scores, so I always pay attention to that aspect of a film.  The music did not suit this movie well … at all.  Truthfully, there were some odd choices in terms of actual songs–it all seemed to be a big of a hodgepodge.  Finally, there are some flat-out goofy moments in this movie–pure cheese.  You'll know it when you see it, but there's no refuting that it's there.
But you know what?  That goofiness is part of Aquaman's charm.  This movie wanted to have fun.  DC movies have been knocked for being too dark as they tried to recreate Christopher Nolan's tone.  Aquaman is anything but dark.  It's fun to watch a hero being a hero while having fun.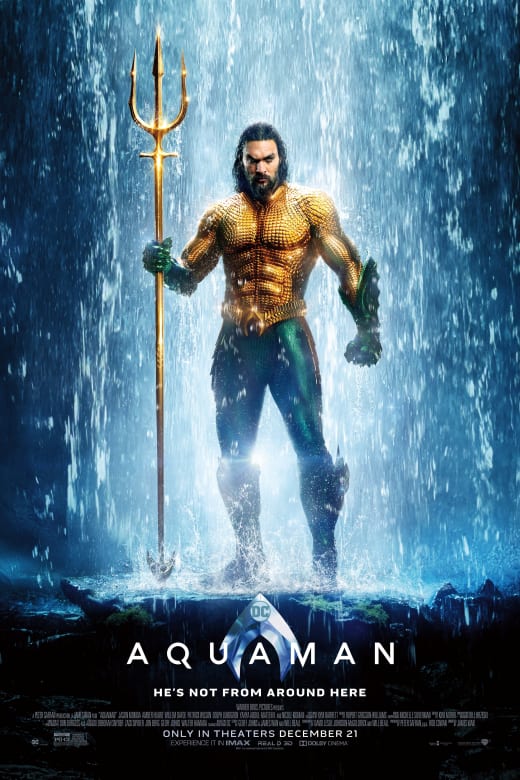 (Did you enjoy this review?  Check out Scott William Foley's short stories HERE!)