Joe Hill first won me over with his graphic novel series entitled Locke & Key.  Since then, I've particularly enjoyed his books Horns and Heart-Shaped Box.  Without a doubt, though, the short story collection called 20th Century Ghosts is my absolute favorite work by the author.
Because he does shorts so well, I knew I had to read Strange Weather.  This book is a compilation of four brief novels–also called novellas.
I'll briefly review each installment …
The first is titled Snapshot.  It's about a man using a Polaroid camera that essentially steals memories.  The main character first encounters this man as a child, and he is horrified to learn the villain has been terrorizing his elderly neighbor.  He is eventually forced to confront the evil stranger.  This story is a simple yet brilliantly imaginative concept.  It takes such a universal idea but makes it feel fresh, inventive, and unique.  Hill provided very likable, identifiable characters in this tale, and he kept me turning the pages until the very end.  My only complaint is the "epilogue" of sorts.  I think Hill let this story linger a bit too long as he updated us on the main character's adulthood and connected his experience as a child to modern day technology.  This connected felt forced to me.
The second story is called Loaded.  There's nothing supernatural about this installment, and that makes it the most horrifying of all.  It's about our nation's sick fetish with guns, and how lives are routinely ruined due to the rampant misuse of them.  Loaded is consistently either discomforting or flat-out terrifying.  Hill does not let up and go easy on the reader in this story.  I think it's perhaps his best work … ever.
Aloft is the next novella in this book.  There have been a few moments in my life when I blatantly got jealous of an author because he or she came up with an idea that I wish could have been mine.  I don't want to give too much away with this one because it genuinely surprised me and I want you to have a similar experience.  I'll tell you this much–a skydiver lands on a UFO before opening his parachute.  … I know!  Great idea, right?
Hill finally delivers Rain as his last offering.  A freak thunderstorm breaks out in Boulder, Colorado, but this is no ordinary rainstorm.  This storm rains nails.  Honeysuckle must watch her girlfriend die in a flurry of crystalline spikes during this storm, and she then takes it upon herself to walk to Denver in order to inform her girlfriend's father.  She encounters awful, post-apocalyptic scenes as a result, but also witnesses humanity's will to continue.  Honeysuckle is challenged by awful scenarios throughout the story, but nothing is more revolting than her own neighbors.  Like Snapshot, I think Hill took this one just a bit too far.  I feel he should have left a mystique regarding the spiked rainfall that eventually plagues the planet, but he instead reveals the cause.  The perpetrator of the vile deed struck me as too contrived, too coincidental, and too, well, manufactured.
Overall, Strange Weather proved an incredibly enjoyable experience.  Hill has a talent at creating imaginative plots and filling them with rounded, charismatic characters.  If you've ever wanted to try Joe Hill, I believe this book encapsulates the best of what he has to offer.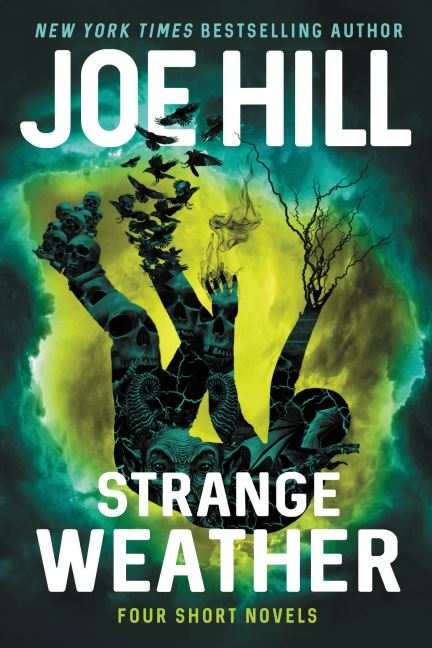 (Did you enjoy this review?  Check out Scott William Foley's short stories HERE!)