I very much love The Dark Tower series.  I believe when it is all said and done, these books will be remembered as Stephen King's masterpiece–his magnum opus.  We have long wished for Roland of Gilead to grace the big screen, but time after time we were burdened with disappointment as it simply never seemed to work out.
Until that disappointment ended.  The news finally arrived that Idris Elba would play Roland Deschain and Matthew McConaughey the Man in Black, Walter, or whatever else you'd like to call him.  These are, under optimal circumstances, exquisite actors.
Furthermore, powerhouses such as Ron Howard, Brian Grazer, Akiva Goldsman, and Stephen King himself served as producers!  These are names that have created some of our most revered entertainment.
Tonight, during a hellacious thunderstorm (which I personally considered the perfect backdrop), I finally got my wish–I saw The Dark Tower on a movie screen.
Did it bother me that, other than my friends and me, there were only five other people in the theater on it's opening night?  Did the bad reviews give me pause?  Did I consider losing faith?
No, I have not forgotten the face of my father.
Here's what we have to remember–a large portion of the viewing audience has never read The Dark Tower series.  In fact, the guys I saw it with haven't read the books!  The industry could not make a movie that worked as a page for page adaptation of The Gunslinger.  They just couldn't.  I know die-hard fans wanted that, but I think that's being a little unfair.  We all know the rules by which Hollywood plays.  Big summer action movies are not exactly subtle, complex, or plot driven.
But here's the thing–The Dark Tower isn't actually that much of an action movie.  In fact, I think you saw most of the action several months ago in the first trailer.  It spent far more time than I expected developing young Jake and Roland's bond, a bond that, over time, will become one of the greatest and most heartbreaking relationships in all of literature.  Jake is an extremely likable character in the books, and so I commend them for spending the time necessary to allow the audience to get to know him, to sympathize with him, and to like him.  It also offered glimpses into Roland's past which resulted in his current, surly demeanor.  Finally, it took its time establishing Roland and Walter's rivalry, one of the most dynamic I've ever read.  They provided far more story than I anticipated, and this pleased me to no end.  There's action–make no mistake.  But there is also a lot of plot with ample room to grow.  More on that later …
Also, with a run time of just one hour and thirty-five minutes, The Dark Tower had to convey a great deal of story, motivation, and character as quickly as possible.  Simply put, it didn't have the luxury of the books to slowly unfold the intricacies we readers adore.  In my mind, they successfully did this.  The established the Dark Tower's purpose, Roland's duty, Walter's reason for wanting to destroy it, and Jake's role relating to all three.
Were there some serious changes made?  Yes, there were some pretty significant departures from The Gunslinger.  We just have to accept that they needed to make this movie as digestible as possible for the casual viewer.  In my mind, they did this.  I mean, really, what do you want most from the first film?  I want to get to know Roland, I want to explore Jake and Roland's relationship, I want to experience Walter and Roland's ongoing conflict.  The casual audience needs to know the significance of the Dark Tower, and they need to see someone try to destroy it and someone try to save it.  I think the filmmakers did an admirable job walking this very fine line.
Honestly, they need to hook as broad an audience as possible with this first film.  If they do that, and if the rumors of television spin-offs combined with future films are true, they will then have the collateral necessary to dive deep into this multiverse.  Right now we need to get people on board with a big, easy to understand film, and then we can all go down the rabbit hole together as this thing adheres more strictly to the other books.
Oh, and there are plenty of rabbit holes for us to explore.  Though the movie didn't specifically address any of these things, sharp-eyed viewers will notice graffiti praising the Crimson King, as well as ample rose symbols everywhere.  There are references to other King books, which play a HUGE role in The Dark Tower series.  In fact, you'll literally hear the words "the shining" and see the name "Pennywise" if you look closely enough.
My hope, my sincere hope, is that with It releasing soon, we are going to get a King universe where they reboot all of his most famous works to interconnect with The Dark Tower.  The Shining, Pet Cemetery, The Stand, 'Salem's Lot, Cujo, and many, many others directly relate or are referenced in The Dark Tower series.   Can you imagine if King pulled a cinematic move like Marvel/Disney?  Why not?  He's been entwining these books for decades!
I'd like to end this review commenting on the acting.  Matthew McConaughey could have really gone over the top with Walter.  He pulls it back just enough.  His Walter is creepy, unsettling, and obviously evil, but we never get any nefarious monologues or maniacal chortling.  He chooses to often speak softly rather than to bellow, and this made all the difference to me.
Finally, Idris Elba was not the obvious choice in my mind for Roland Deschain.  Let's face it–most of us always pictured Roland as white.  King himself is on record as saying he modeled him off of Clint Eastwood.  However, Elba nailed this character.  Nailed it.  Elba captured Roland's penchant for violence, his silent wisdom, his stoic torment, and–most importantly–his ability to accept Jake into his heart.  He delivered the most important aspects of this character so many of us hold dear thus rendering simple skin tone irrelevant.  Idris Elba is Roland Deschain–plain and simple.
I believe if you're a casual viewer you will really be able to follow and enjoy this film.  For the avid Dark Tower fans, I think the film offers you the most important qualities that you crave with a great deal of potential to deliver the more nuanced adaptation you desire from subsequent films.  Of course, those won't happen if we don't get out there and support this first conventional installment.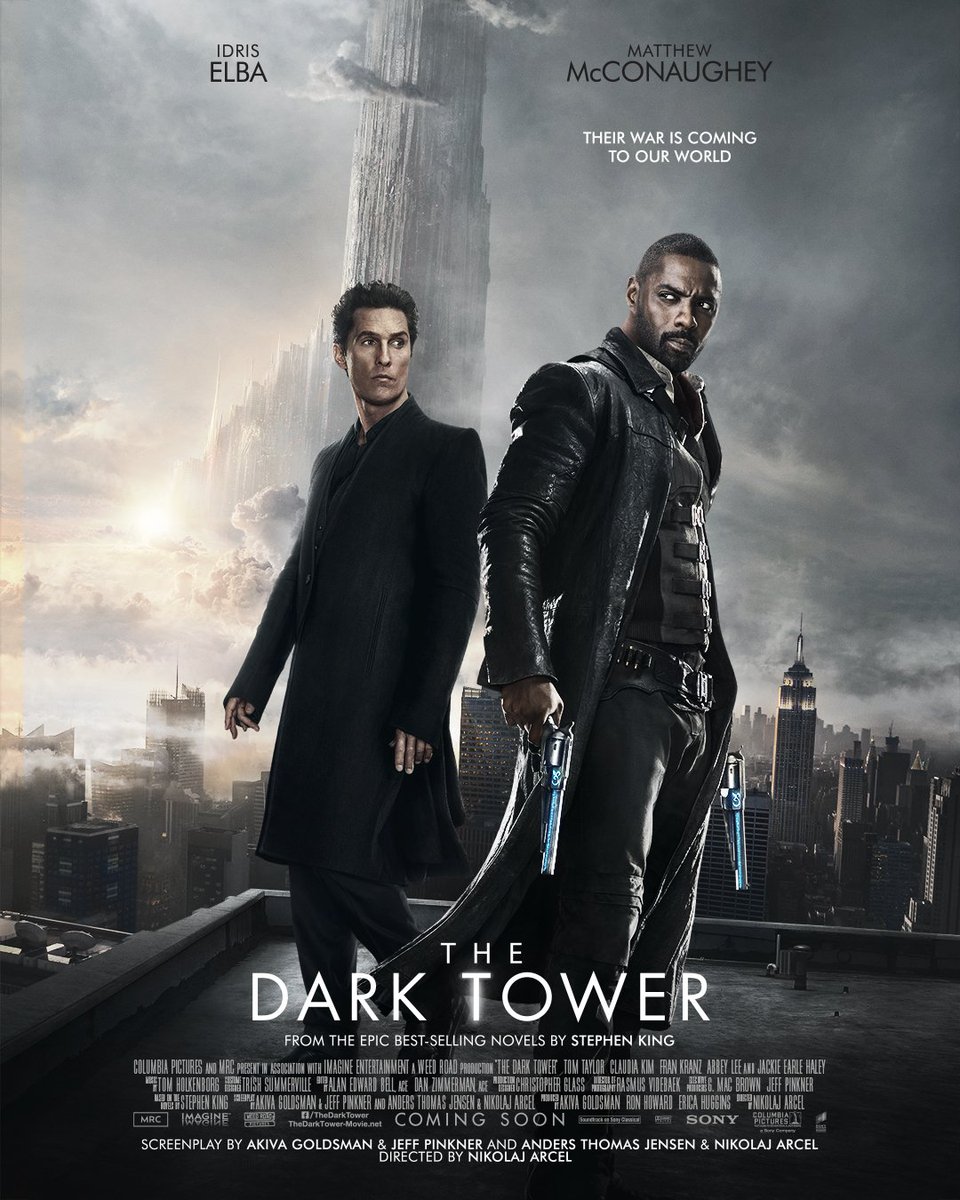 (Did you enjoy this review?  Check out Scott William Foley's short stories HERE!)