Yesterday I discussed our lodging while staying in Wisconsin Dells.  Today, I'd like to talk with you about the attractions we experienced.  Again, the whole goal of traveling to Wilderness Resort in the winter was to take advantage of the indoor water parks, so I'll start with those.
Wild West (click to see gallery) – Located in the Wilderness Hotel, we entered this water park as soon as it opened on our first day.  As a result, we managed to easily grab seats near the giant play house.  This park by far proved to be our favorite.  They say it's the largest of the three, and that seemed to be true.  My youngest daughter loved the play house with it's mini-water slides.  I rode a few of them, too, and even though they were mini, they still provided a thrill.  My oldest daughter and I tried out the huge tube slides as well.  Though you have to climb quite a few stairs to get to these slides, it's totally worth it.  The descent is a series of twists and turns in total darkness — it's a blast!  The tubes are so long that they jut out from the building for several curves before reentering the facility.  We managed to get my youngest daughter onto the four-person tube slide, and she loved it, too!  If we're being honest, I would recommend spending all of your time at this water park between the three.  More on that to come.
Klondike Kavern (click to see gallery) – We entered this water park on our second day.  Though we arrived twenty-five minutes after it opened, we literally could not find a seat or table.  We had to rest our things on the edge of a rock feature.  With that being said, my youngest again enjoyed the play house.  It was very similar to the other one at the Wild West.  My oldest particularly liked the lazy river.  However, as you probably guessed, this park was packed, so the lazy river felt more like bumper cars to me.  Also, lots of feet jutting out everywhere.  Lots.  Of.  Feet.  My oldest daughter and I also enjoyed the giant water slides, but they weren't quite as fun as those at the Wild West.  I had to do one of them on my own, which was pretty cool, called The Hurricane.  One of the workers described it as like being flushed down a toilet, and he was right!  You start down a tube, enter a giant enclosed bowl, then spin around and around before dropping into a smaller tube.  As I said, I had to do this one by myself, and right before I started I noticed a sign that said not to panic if you become stuck in the bowl — someone will come help you!  That got the heart racing.  Luckily, I didn't get stuck.
Wild Waterdome (click to see gallery) – This isn't really much of a water park in the New Frontier area of Wilderness Resort.  It's an enclosed section that allows sunlight through — kind of like a greenhouse.  It's main, and almost only, attraction is the Great Wave, which is an enormous pool that creates giant, six foot waves.  My daughters and I stayed pretty far back in the pool where the waves weren't quite so extreme.  It was fun at first, but the novelty soon wore off.  Again, because the place was so packed, every wave sent you careening into someone else.  We were in it for about forty-five minutes, and the lifeguards had to stop it three different times during that duration in order to jump in and save someone in distress.  People insisted getting as far into the six-foot deep end as possible, but once the waves started, couldn't keep themselves afloat.  Not to worry — all three individuals were fine.  We got out because my daughter lost her footing and scraped her knee on the floor.  After the friendly first-aid worker patched her up, we sat along the edge of the Great Wave and watched the sea of humanity floating up and down like flotsam and jetsam.
Again, I would plan on an hour or two at Wild Waterdome, skip Klondike Kavern altogether, and spend most of your time at the Wild West.  It could simply be that because Wild West was much bigger, we didn't feel quite so crowded, which increased my overall enjoyment.  Now on to the attractions in the Wilderness Resort that were not actually water parks.
Wilderwoods Go-Kart Trail (click to see gallery) – This was a blast!  These little go-karts could seat one individual or two, so my wife drove one with one of our daughters and I drove with the other daughter.  You begin by working your way up a corkscrew ramp, then you race down another ramp in circles as well.  They give you about five minutes to race.  In my experience, wherever your position was at the start of the race pretty much guaranteed your position at the end of the race, but it was still a ton of fun!  This feature costs extra, but you can purchase a pass that packages it with some other fun activities.  By the way, the workers were super friendly here.
Northern Lights Sky Ropes Course (click to see gallery) – Literally located above an arcade, this course also delighted us.  Before you begin, you will be tethered into an aerial track that prevents you from falling.  We all enjoyed this feature — even my six-year-old!  You will walk across balance beams, tight ropes, and rolling barrels.  I'm generally afraid of heights, but I felt perfectly safe and at ease because of the tether, so it proved quite fun.  Be aware, they make you remove all cell phones, purses, keys, wallets — anything that can fall off of you.  However, they provide you with a locker and key in order to protect your valuables.  You are allotted thirty minutes on the course which totally flies by.  I'm sure you could stay longer if you wanted.  They write the time you start on a wrist band and you are expected to follow an honor code.  I highly recommend that you give this one a try.  Again, this feature costs extra, but you can purchase a pass that packages it with some other fun activities.  The workers here were very safety-minded, engaged, and friendly.
Marshall Training Lazer Maze (click to see gallery) – Total waste of money.  Don't bother.  It was included on our fun pass, so we gave it a go.  You enter a small room with lasers shining everywhere.  The worker gave us no instructions, no pointers, no information at all.  We had no idea what we were trying to achieve.  It lasted about two minutes.
OK Corral Lazer Tag (click to see gallery) – This was also included on our fun pass, and we loved it!  You are outfitted with a vest that has targets on both the front and the back.  A laser gun is attached to the vest.  You are thrust into a giant room with ramps, windows, walls dividing up areas, and even a stage coach!  Your gun shows you a time limit, so you have to try to earn as many points by hitting opponents as possible as quickly as possible.  It's very dark with black lights providing the only illumination, so you have to be careful where you walk.  Though there's no danger of falling off of anything, I nearly collided with several kids!  Once the game ended, you're given a score card with all kinds of cool statistics about your performance.  My youngest wasn't too cracked up about this one, but my oldest daughter thought it was really cool.  The main worker explained things well and seemed to genuinely want everyone to have a good time.
Wild West Bumper Boats (click to see gallery) – Located in a pool within the Wild West water park, these bumper boats were pretty fun.  They never get moving too fast, so the bumps are never too jarring.  The boats are also very easy to operate.  My ten-year-old had no problems moving the boat around at all.  Be aware, though, that they also have spray guns shooting ice cold water.  We all got shot in the face on numerous occasions.  If that's not your thing, avoid this attraction.  It was included on our fun pass, though, so we gave it a try.  The worker was super friendly and helpful here.
Wild Abyss 3D Mini Gold (click to see gallery) – Also included on the fun pass, this little nine-hole course provided for a fun twenty minutes.  Though not terribly difficult, my kids both enjoyed not only the holes, but also the black lights, the 3D features, and the aquatic theme.  Honestly, though, my six-year-old got a little freaked out by the sound effects.  You can find this attraction beneath the ropes course off to the side.  The worker at this course barely spoke to us and seemed more interested in her phone than anything.
Mega Prize Arcades (click to see gallery) – There are arcades literally everywhere in Wisconsin Dells.  Wilderness Resort is no exception!  My oldest daughter loves video games, especially claw machines, so she had a blast sampling the various arcades located, well, everywhere.  The system in the Wilderness is interesting.  You load a card with a certain amount of money, which equates a particular amount of credits.  Each game costs a specific amount of credits.  You swipe the card through a reader on the game, which then deducts the appropriate amount of credits.  However, you're also awarded "tokens" onto the card after each game.  When you're ready to claim your prize, you go to the prize counter where a worker will swipe your card to find out how many "tokens" you earned.  You can then choose a prize accordingly.  In my experience, most of the workers would round up the token amount to the nearest ten.  They also have machines around that will tell you your "token" amount as well in case you fear the trustworthiness of the workers.  Most of the claw machines are scams, as you would assume, but there was one claw machine that awarded a win virtually every time I saw a kid use it — including my own!  This machine was full of giant, rubber spiked balls with faces printed on them.  I'd say they were probably twice the size of a basketball.  My daughter won one on her second try, and we saw kids lugging these balls around all over the place.  By the way, the workers at the prize counter were incredibly helpful and friendly at the Northern Lights Arcade beneath the rope course.
Timberland Playhouse (click to see gallery) –  Rejoice — this attraction is free!  My six-year-old would have happily spent our entire visit in this gargantuan play land.  Divided by netting, kids can climb up several levels and experience swings, slides, bridges, and obstacles.  Even though it was full of kids, it's so big that my daughters never felt crowded or overwhelmed by too many people.  There's plenty of seating next to the play house, so parents, this could be a good time to regroup, relax, or veg out.
I hope you found this information useful.  If you have any questions, please don't hesitate to ask in the comment section.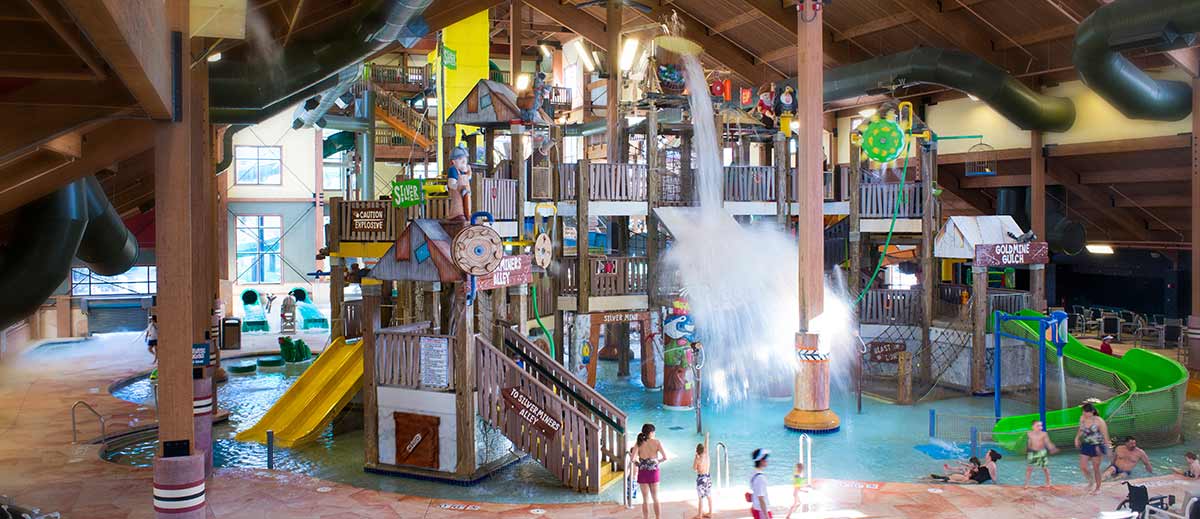 (Did you enjoy this article?  Check out Scott William Foley's short stories HERE!)