You may remember that I did not care for the price of Locke & Key: Small World in relation to the amount of pages.  (Click HERE if you'd like to revisit my angst.)  Heaven and Earth, like Small World, is a collection of three very short stories involving the Locke & Key mythology.  Short stories may be an overstatement.  One of them is short.  The other two are downright minuscule.
The first short involves the family introduced in Small World.  It is an excellently executed short story that will have you tearing up before you know it.
The second short, which is far shorter, focuses upon the children in the first after they've reached early adulthood.  Some gangsters come their way with rape and murder on their minds.  Let's just say the gangsters receive poetic justice.
The third will be over before you blink, but it will bring a smile to your face, guaranteed.
The book also contains photographs of Joe Hill and Gabriel Rodriguez exploring the island they used as a model for the book.  They are candid, interesting shots with the guys joking around.  There are a few alternate covers that use actual crafted keys to replicate those found in the stories, which are actually very cool.
Now that I've accepted the price point of these little additions to the Locke & Key story line, I'm not quite so upset.  As a Locke & Key fan, I would say that both Small World and Heaven and Earth are required reading.  I appreciate that they tried to fill in some space to better justify the price, but I personally would have much preferred one more story instead.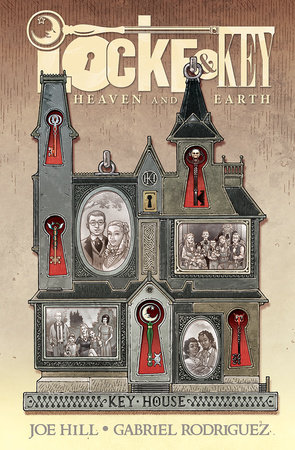 (Did you enjoy this review?  Check out Scott William Foley's short stories HERE!)